A Conversation with Dr. Erna Busch-Devereaux
March 10, 2021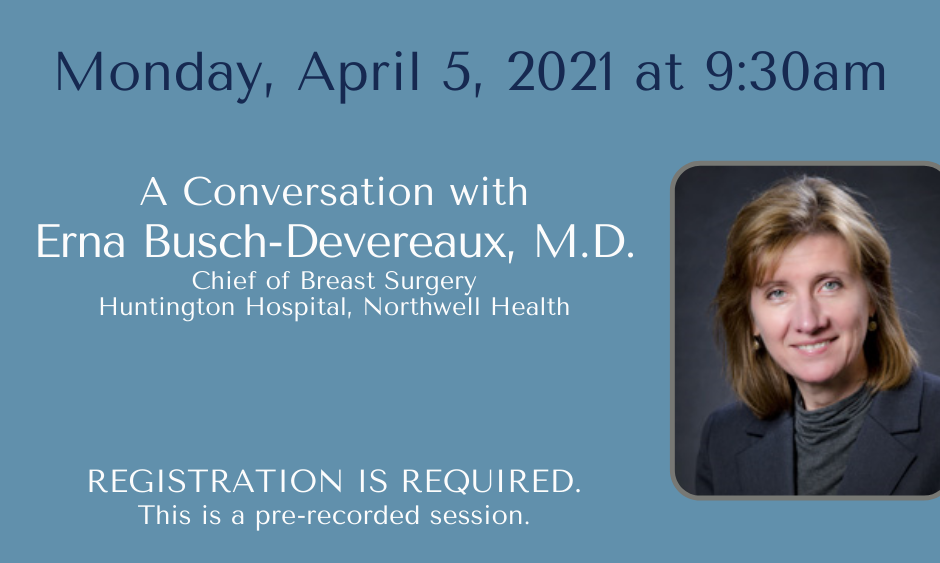 Join us on Monday, April 5, 2021 at 9:30 AM EST via ZOOM for our next lecture as part of our Be Informed Lecture Series. Our guest speaker will be Dr. Erna Busch-Devereuax, Chief of Breast Surgery at Huntington Hospital–Northwell Health.  In order to accommodate schedules, this lecture will be pre-recorded and premiere on April 5. Registration is required.
Topics will include:
What is the difference between the stage and the grade of a tumor and how is each determined?
Why is a 2nd biopsy sometimes necessary even if a mastectomy has been scheduled?
How does lymph node involvement affect long term prognosis?
How is nipple/areola sparing determined – is it generally safer and more pro-active to remove both as sensation is impacted either way.
How is it determined if a unilateral cancer will recur or affect the other breast?
Given the possible long term effects of radiation, is it ultimately safer to have a mastectomy?
If I have dense breasts, which diagnostic study would be more likely to identify areas of concern?
ABOUT THE SPEAKER
Dr. Erna Busch-Devereaux is the Chief of Breast Surgery at Huntington Hospital which is part of the Northwell Health System and currently Assistant Professor of Surgery at Hofstra North Shore-LIJ School of Medicine. Dr. Busch-Devereaux received her medical degree from University of Medicine and Dentistry of New Jersey. She did her General Surgery Residency at St. Vincent's Hospital and Surgical Oncology Fellowship at Roswell Park Cancer Institute. She is an active member of several Hospital Committees. She has written book chapters and peer reviewed articles and participates in Breast Cancer Research. She has presented her expertise to the Medical and Lay public community at many lectures over the last two decades.</td>
—
The Be Informed Lecture Series is brought to you by NYBRA Plastic Surgery's Patient Empowerment Program. Our monthly Be Informed Lecture Series provides patients with information and insights that are useful at every stage. Experts in the community come to NYBRA to give pro bono lectures on a range of topics, including genetic mutations, dietary insights, and the latest surgical techniques.
Events