The Role of Medical Oncology in Treatment of Breast Cancer
January 20, 2021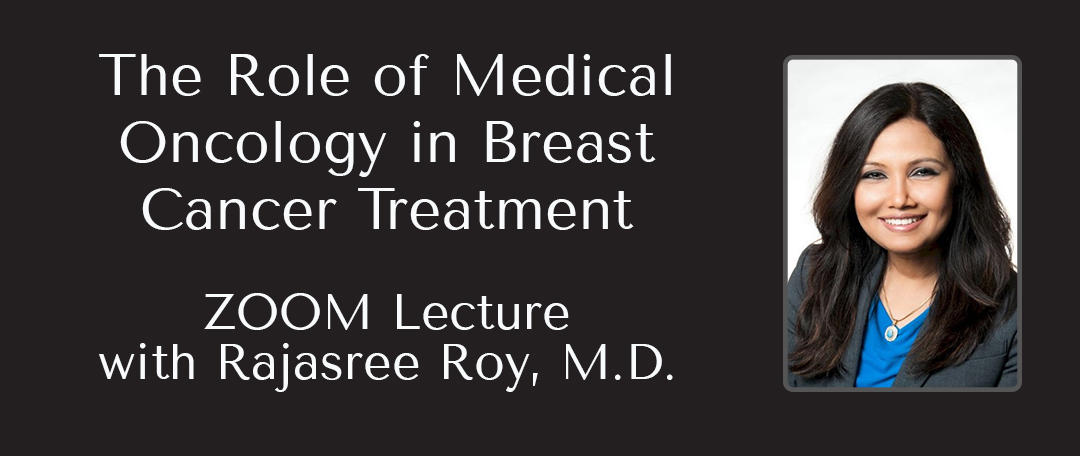 Join us on Monday, February 8, 2021 at 9:30 AM EST via ZOOM for our next lecture as part of our Be Informed Lecture Series. Our guest speaker will be Rajasree Roy, M.D., Attending Physician, Hematology/Oncology at the Cancer Institute at St. Francis Hospital.
Registration is required. Dr. Roy will discuss how oncology fits into breast cancer treatment.
Topics will include:
How is a course of treatment determined: 

chemotherapy, radiation and/or oral medication?

What are the short-term and long-term effects of oncological treatment on the body as a whole?

What's on the horizon for treatment of breast cancer?
ABOUT THE SPEAKER

Dr. Roy is an Attending Physician, Hematology/Oncology at The Cancer Institute at St. Francis Hospital in East Hills, NY. She was previously an assistant professor of medicine at Hofstra North Shore LIJ School of Medicine, Assistant Professor of Medicine. Dr. Roy's publications have appeared in Oncology, Journal of Clinical Oncology, and Blood, and she is a member of the American Society of Hematology, and the American Society of Clinical Oncology.
The Be Informed Lecture Series is brought to you by NYBRA Plastic Surgery's Patient Empowerment Program. Our monthly Be Informed Lecture Series provides patients with information and insights that are useful at every stage. Experts in the community come to NYBRA to give pro bono lectures on a range of topics, including genetic mutations, dietary insights, and the latest surgical techniques.
Events