2023 ASPS Patient of Courage Award Recipient
October 28, 2023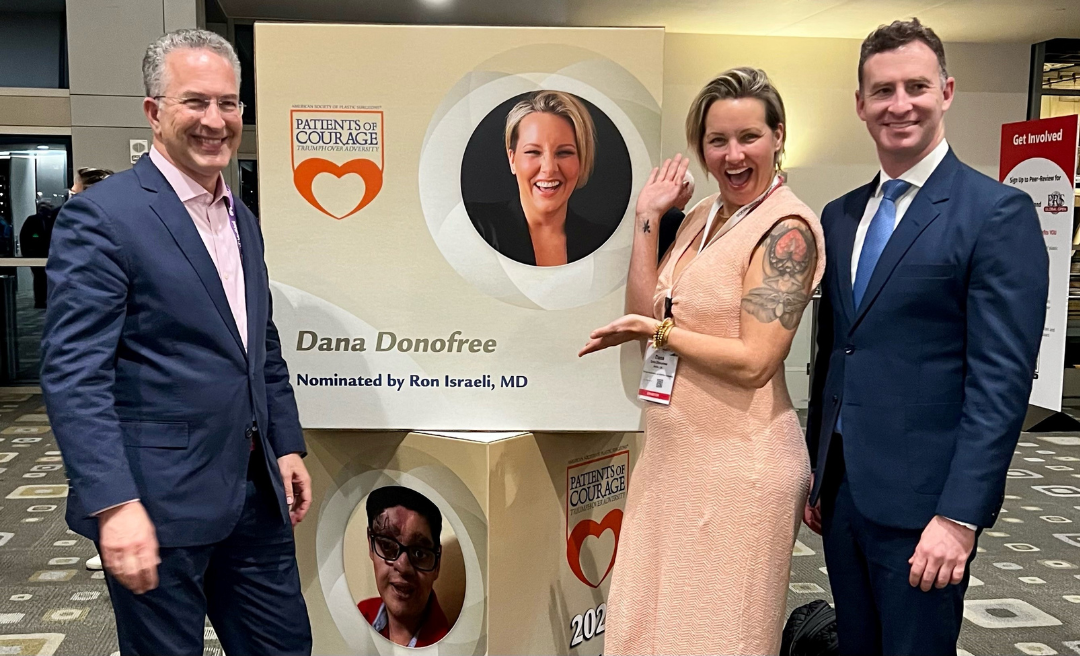 Meet Dana Donofree, 2023 American Society of Plastic Surgeons Patient of Courage. On October 27th, Dana was joined on stage by her nominating surgeons Dr. Ron Israeli and Dr. Jonathan Bank, to receive her award at the American Society of Plastic Surgeons annual meeting in Austin, Texas.
Dana Donofree was diagnosed with breast cancer in 2010 at the age of 27. Her initial treatment included bilateral mastectomies, staged subpectoral expander-implant reconstruction, and chemotherapy.
While Dana was very happy with her initial implant reconstruction, she remained uncomfortable with animation of her implants. The evolution of prepectoral approaches to implant reconstruction prompted Dana to proceed with revision surgery by Dr. Israeli and Dr. Bank. In the fall of 2021 Dana underwent bilateral prepectoral conversion of her implants with simultaneous fat grafting. Following this surgery, her implant animation has been resolved and she has regained strength in her chest wall.
At the time of her diagnosis, as a graduate of Savannah College of Art and Design, Dana was pursuing her lifelong dream of becoming a fashion designer. After completing her treatments, Dana searched for clothing and a comfortable bra that would fit her reconstructed breasts. Unsuccessful in her search, Dana used her experience in fashion design to create a line of bras and loungewear designed specifically for women who have undergone breast surgery. Already immersed in the world of fashion design, Dana launched AnaOno in 2014 to fill the need for designed styles for women going through breast cancer and breast reconstruction recovery. Her mission in creating AnaOno was to help women feel beautiful and confident as they adjust to life after breast cancer treatments. AnaOno's tagline "You're Never Alone" summarizes Dana's tireless commitment to women facing mastectomy and reconstruction. This chest-inclusive line is helping patients with all surgery outcomes after breast surgery feel whole again.
Dana's dedication to the breast cancer and breast reconstruction community goes well-beyond AnaOno. Understanding the importance of investing in research for treatment of stage IV metastatic breast cancer, Dana has collaborated with #Cancerland to benefit METAvivor, a non-profit organization funding breast cancer research and awareness. This collaboration began in 2017 when Dana created the first incredible AnaOno fundraising runway show featuring breast cancer survivors as part New York Fashion Week. Dana's involvement with the breast cancer community also extends to her work with numerous advocacy groups and non-profit organizations focused on supporting and educating women facing breast cancer treatments and breast reconstruction. Organizations she has collaborated with have included Living Beyond Breast Cancer, The Breasties, and Penn Medicine, among others.
Featured in the 2017 edition of Breast Reconstruction, the Plastic Surgery News supplement, Dana has had a long-standing relationship with the ASPS. She has been involved in past Breast Reconstruction Awareness Day events and has been supportive of multiple ASPS educational initiatives. She has moderated ASPS Breast Reconstruction Roundtable conversations bringing patients and surgeons together to discuss various breast reconstruction topics. She has also been featured in the ASPS documentary series, The Innovators.
Before her revision surgery, Dr. Israeli and Dr. Bank had the pleasure of working with Dana as she participated in Restored, a multi-media breast reconstruction sculpture and photography project, which has culminated in a beautiful book. Dana's life cast sculpture and photos of Dana are part of this project. The multi-media exhibit was first introduced during the annual ASPS Meeting in Atlanta in October of 2021 with Dana joining the exhibit again in New York City in November of 2021.
Since her own personal diagnosis of breast cancer over a decade ago, Dana has dedicated herself to the empowerment of women with breast cancer though her professional life, advocacy and charitable work, as well as her social media efforts. Dana is deeply committed to helping women facing breast cancer, providing them with the kind of support not available to her when she was first diagnosed. Through Dana's tireless efforts, she is now an important source of support and community for women as she encourages them and gives them hope during their breast cancer treatments.
Dana Donofree represents the true essence of what it means to be a Patient of Courage.
Events