Carolyn

- Bilateral mastectomies
- DIEP flap reconstruction
- Nipple areola reconstruction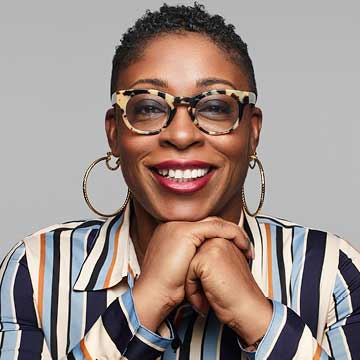 In July of 2018, Carolyn felt a lump. "My hand brushed across my breast, and I felt it. It was like a pebble," she said. She called her doctor, and they gave her an appointment in September. Within a week she was scheduled for a biopsy. One biopsy became three. By the time she was diagnosed with aggressive, HER2-positive breast cancer in October of that year, it was already in her lymph nodes.
Carolyn had experienced a stillbirth six months earlier. As soon as the diagnoses came down, she said her grief shifted to action. "I had to switch gears from losing a child to having cancer."
She received six months of aggressive chemotherapy, which finished in May of 2019. After chemotherapy, she planned for bilateral mastectomies and had immediate DIEP flap reconstruction by Dr. David Light in June 2019. She worked as much as possible during treatment.
"I'm a speech therapist in the New York City school system. You have to be consistent for things to work out with your clients and your caseload. My supervisors were understanding, but it was still very difficult. It kind of gave me a purpose instead of just laying home all the time."
Carolyn had already had a lumpectomy in the same breast ten years prior; she chose to have a double mastectomy to reduce her risk of another recurrence. Still, she was concerned about what to expect after surgery. She was referred to NYBRA Plastic Surgery by a colleague, who also told her about NYBRA's community of support.
"I really went to the [support] group because I wanted to know what to expect. I have two disabled children that live with me who I care for: I cannot be down for too long. If I am down, I still have to be able to delegate."
Fortunately, the stories and tools the other women shared assuaged her concerns. She felt more confident about the surgical plan she and Dr. Light had created.
"When I went to the group and I sat down and I listened to everyone's story, they were all different. And that's when I got a little bit of hope."
Her newly-minted peers also gave her some sense of what her body would look like, which, coupled with words of encouragement from her husband, Shaine, reassured her that this would not break her marriage.
Chemotherapy successfully reduced the amount of malignant tissue in her breast, leaving only fractions of a tumor. She was prescribed nine additional months of chemotherapy after surgery. Radiation was also recommended, but she decided against it.
"I looked at my labs; I looked at the pathology. There was a really small amount of cancer left on one of my lymph nodes. I have no nodes and no breast tissue left. Your doctors are there to make suggestions to you, but you also have to take some kind of ownership, get second opinions, and be involved in your care."
While Caronlyn's story was full of physical challenges, she said one of the most difficult parts of the experience was how her situation contradicted people's preconceived notions of what it means to have cancer.
"I guess you look at people on TV, but that's not everyone's experience. If I didn't want anyone to know, no one would know."
Today, she encourages people going through cancer to be open-minded but remember that their experiences are unique.
"Listen to others but don't put too much weight in what they're saying. All of us are on individual journeys. We all want to come out in the end, but we all come out differently."
More Patient Stories
Our patients are the most essential part of the NYBRA community. No two stories are alike.