Steps for Strides Week 5: Slow and Steady
September 6, 2022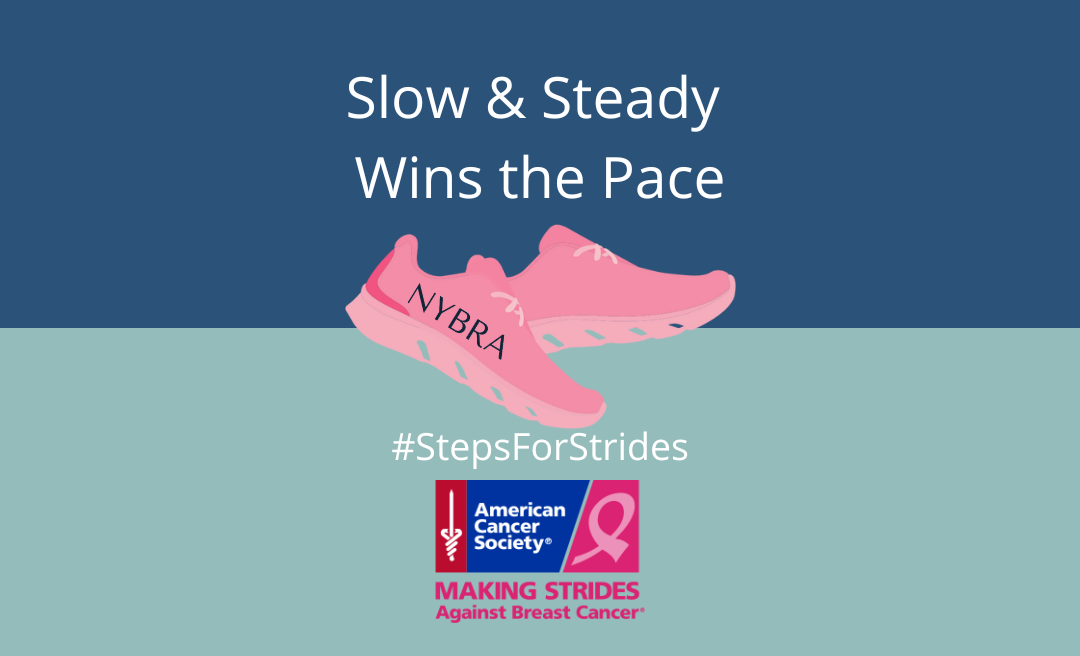 Now that you've been moving for a few weeks, it's time to add an essential component: length. Making Strides is a relatively long walk. While it is important to build up based on your comfort level, it is also important to work toward that longer goal. You have increased your duration incrementally each week. This week, that means working a longer day into your routine.
This week's training goals:
Add five minutes to each of your first four walking days this week to walk 30 minutes per day, four days a week, at a moderate pace, as you've done in past weeks.
Make your fifth walking day longer this week by adding an additional five minutes to improve long distance conditioning. This walk should be 40 minutes long, at an easy pace.
In the weeks between now and Making Strides, you'll maintain a long walk day by adding time to one walk each week.
As you ramp up your walking time, stay in touch with your mind and body. Pay attention to any discomfort you may have, and speak to your doctor about potential limitations.
Focus on duration, not distance.
A longer walk is not a faster walk. We are not quite ready to add speed yet. (That's next week!) Instead, keep your pace slow and steady. Focus on the duration of your walk, not the distance you travel.
Stay hydrated.
Once you are walking for more than 30 minutes, you may find that you're thirsty, even at a gentle pace. It is essential to remain hydrated. Remember to bring water with you on your walk. Try keeping a water bottle in a waist pack with a water holster, which will allow you to maintain proper walking form.
Reflect while you walk.
Walking almost every day may provide an opportunity to clear your mind and tune into your feelings. As you dedicate more time to this practice, consider it a form of self-care. You may be able to use it to give yourself emotional space.
Bring a buddy.
If you find yourself bored rather than introspective, find a friend! Invite a walking buddy for your easy pace, 40-minute day. (Chatting can be a great way to make sure you do not pick up too much speed!) You can also bring your dog (if you have one) or put on your favorite podcast or playlist.
Remember to join our team.
If you want to organize a group of walkers, you can form your own team under the umbrella of our practice's name. Add your team under our company name NYBRA Plastic Surgery on the Making Strides website.
Individuals or smaller groups who do not wish to create teams of their own can simply join our team, or donate to our team, Drs. Feingold, Israeli, Korn, Light and Bank at NYBRA.com.
Events