Recapping The Beth C. Tortolani Foundation's Dinner Dance Honor of Drs. Randall S. Feingold and Ron Israeli
May 26, 2022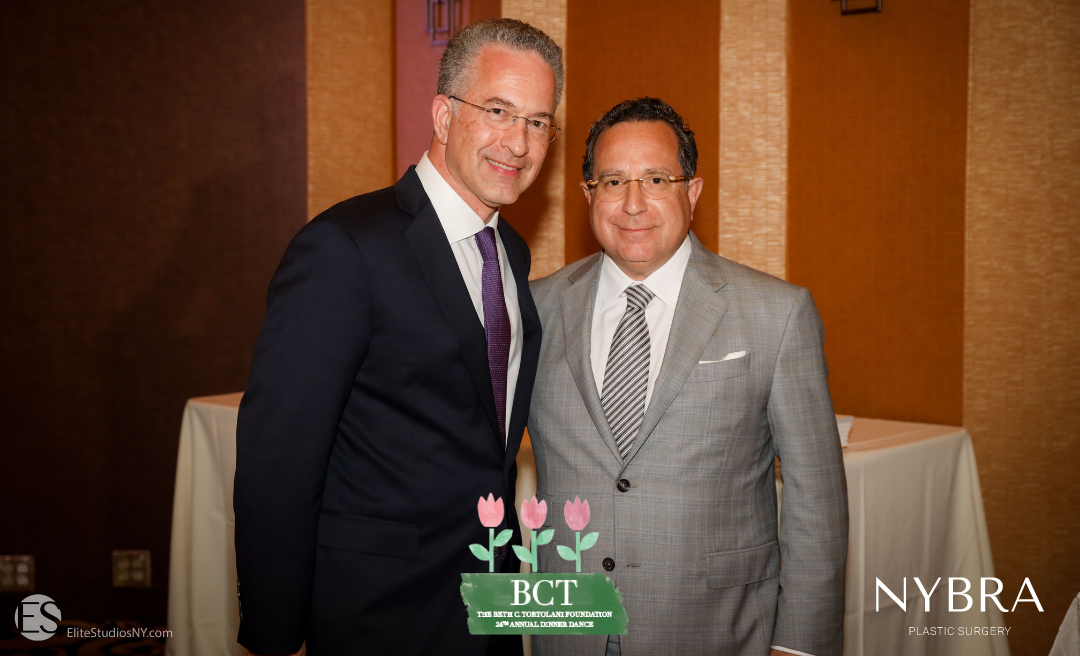 On Saturday, May 21st over 400 supporters and guests of The Beth C. Tortolani Foundation gathered at Terrace on the Park in Queens to honor NYBRA Plastic Surgery's doctors Randall Feingold and Ron Israeli for their dedication and commitment to women facing breast cancer. The evening was a beautiful union of the medical community and patients, coming together for a worthy cause.
The evening began with guests and honorees convening over hors d'oeuvers and cocktails. Patients of the doctors attended coming from as far away as Omaha. Ann, Dr. Israeli's patient from Nebraska thoughtfully said, "I traveled to New York many times for consults and surgery, so when the opportunity arose to attend an event to honor Dr. Israeli, I felt I had to go. It was just such an incredible night. This time my trip was not for medical reasons, but for a celebration!"
Cherished partners in the breast cancer community joined from near and far. Dana Donofree, founder of AnaOno drove in from Philadelphia, Cancer Fashionista, Melissa Berry joined from New Jersey and Hip Hop Happy Hour's Trish Danielle was in attendance from the city. Doctors Feingold and Israeli were supported by their partners David Light and Jonathan Bank, their families, and staff from NYBRA Plastic Surgery. "It was a pleasure and an honor to be present, supporting the surgeons I work closely with every day.  The impact of their commitment to our community and patients is admirable," said Brittany Corstange, Director of Marketing for NYBRA Plastic Surgery.
"I was so happy to see our patients and members of the breast cancer advocacy community here to support us and the incredible work of the Beth C. Tortolani Foundation," Dr. Israeli delightedly chimed in.
Before guests sat down to dinner, there was a heartfelt presentation, and fellow surgeon Dr. Dwight De Risi offered his thoughts regarding the distinction. Dr. Feingold and Dr. Israeli's dedication to breast cancer, spanning over 20 years, is in perfect alignment with the foundation's mission to devote time and commit to providing the resources necessary to women facing breast cancer.  Their time spent educating patients about all of their breast reconstruction options, operating and after care tailored to each individual and their family is remarkable. As individuals who strive to improve the lives of women with breast cancer, their actions are harmonious with the mission of The Beth C. Tortolani Foundation.
Dr. Anthony Tortolani has fondly said of his wife, "She was young and courageous, gentle and strong." The strides they have made, and the continued commitment doctors Feingold and Israeli have championed for the breast cancer community and patients will undoubtedly ensure that more young and courageous women and men have futures to look forward to after their diagnosis.
Blog