Finding Order in the Disorder: Mollie Sugarman Speaks on the DiepC Podcast
December 15, 2021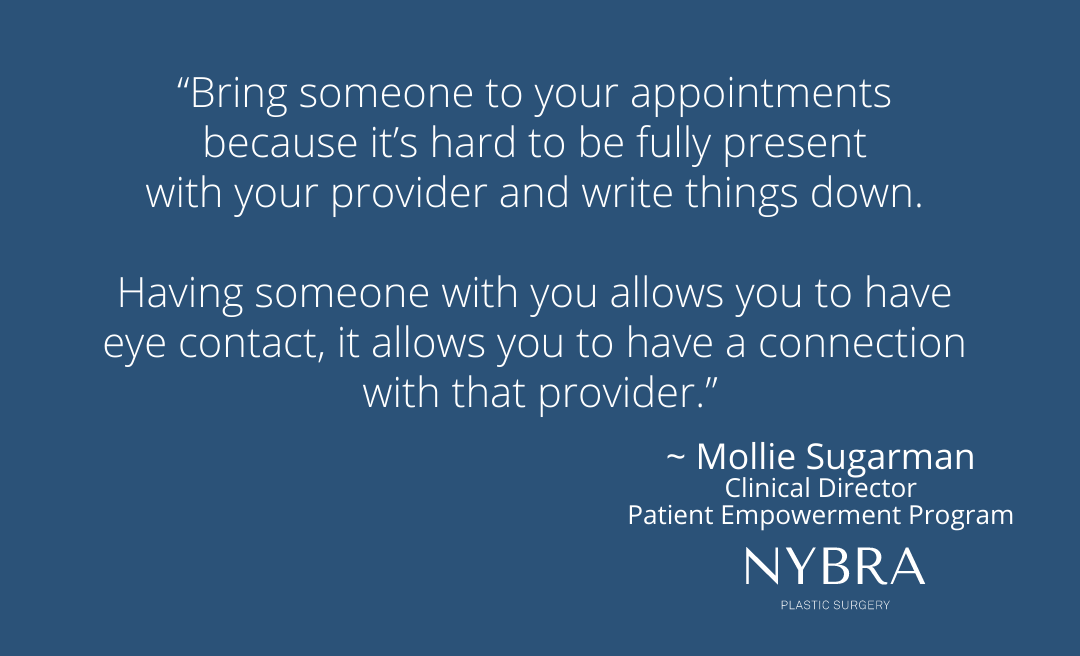 Clinical Director of the Patient Empowerment Program, Mollie Sugarman, has spent countless hours with newly diagnosed breast cancer patients. The diagnosis is unmooring. It can knock even the most poised individuals off-course.
"One's pre-cancer skills—judgment and organization—can easily become blunted," she explained in an episode of the DiepC Foundation's podcast with Terri Coutee. 
Mollie joined Terri to talk about NYBRA's integrated approach to treating breast reconstruction patients. She shared insights, anecdotes, and actionable tips to help overwhelmed patients take charge of the things over which they do have control and get the support they need.
Read on for a few highlights or listen to the whole episode here!
A little bit of notetaking and planning goes a long way.
Mollie said that the first thing she suggests patients do is purchase a three ring binder to tame the overwhelming paperwork of diagnosis and treatment. It should include five dividers: one for diagnostics, one for your breast surgeon, one for your plastic surgeon, one for your oncologist, and one miscellaneous. She suggests that patients add note paper to each section and print out a two month calendar, which can be a helpful visual in the flurry of appointments to come.
"Your life becomes a series of appointments. It becomes a full time job, and to be able to see it spread out, the inside cover of this binder can be very helpful."
Ask questions, and bring someone else to record the answers.
According to Mollie, most patients are only able to absorb about 70-percent of what is said in a given appointment. That makes noting both information and follow up questions essential, but it's just as essential to build relationships with your doctors.
"Bring someone to your appointments, because it's hard to be fully present with your provider and write things down. Having someone with you allows you to have eye contact, it allows you to have a connection with that provider."
While she encouraged patients to be as concise and focused with their questions as possible, Mollie also stressed that all questions are valid. 
"You cannot expect to know what's involved when you've never had this experience before, and asking serves to quiet your mind."
If you don't think you have a support network, start to think outside the box.
"A lot of patients, through the years that I've been doing this, really have no one," Mollie said.
She explained that those patients are often too emotionally taxed to recognize the community support that may be available to them. 
"One of the things that I do with them is to go through the various options within their community, to take a look at what they might be overlooking. Whether it's contact with a religious organization, whether it's a temple or synagogue. Many of them have caring communities, things you might not think about, to tap into."
Too much support can be overwhelming, too—it's OK to set boundaries.
Patients with robust familial or social networks sometimes find those caring individuals hard to manage. Mollie shared some practical tips to stay organized and avoid inundating patients, caretakers, and immediate family members with calls, texts, and food deliveries.
She suggests that patients set one person as the spokesperson for your support system. That person can set up some systems online so that people can sign up to do things like drop off food or assist in child care. The spokesperson should also create a group text or email list to share information and establish expectations immediately. 
"Send one message out in advance of the surgery [that says] this is what's happening; I know all of you want to be available, and this is the way in which you can most be available to us."
It's OK to use the word cancer with children.
Mollie discussed how patients with young children are often concerned about how to discuss the situation with them. More than anything, she encouraged patients to find age-appropriate ways to be transparent with their children. This type of trauma does not have to be all negative for them. It can offer an opportunity to teach them how to deal with crises with compassion, how to reach out for help, how to manage fear, and more.
"Part of our role as parents—in addition to protecting our children—is to also prepare them in how to deal with stressors as life goes on."
Blog