Dr. Bank Talks Breast Relief with Allyn Rose
March 24, 2021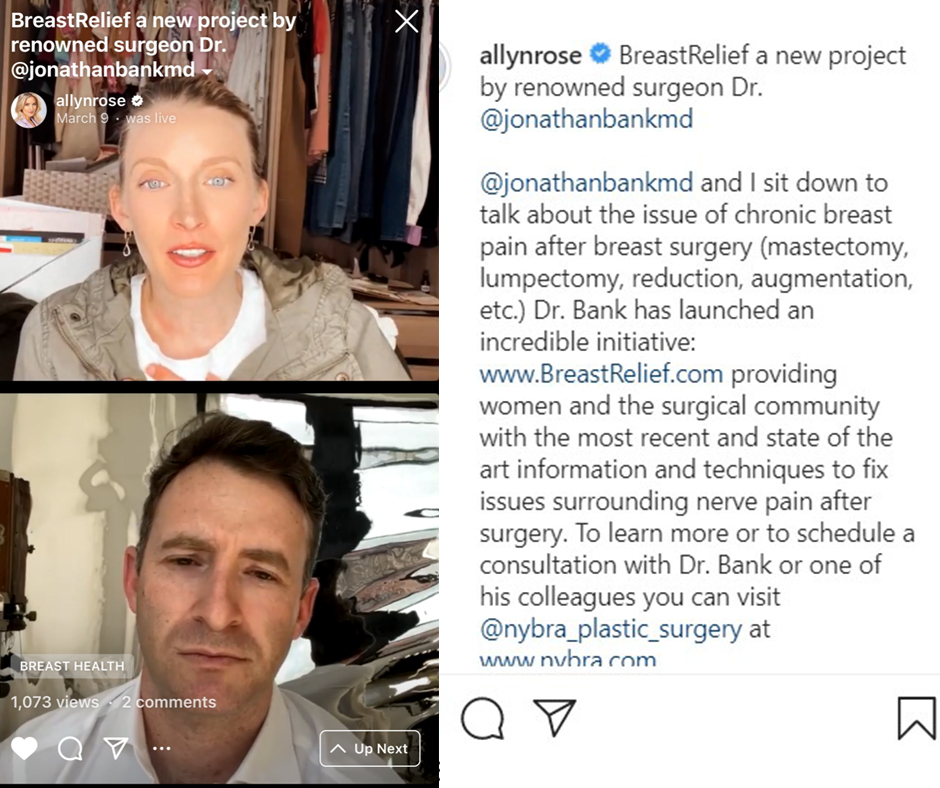 Earlier this month, Dr. Jonathan Bank joined breast cancer advocate Allyn Rose, on Instagram live to talk about Breast Relief and the initiative's recently-launched website, BreastRelief.com. Breast Relief aims to address Post-Mastectomy Pain Syndrome (PMPS), a chronic pain condition that can occur after mastectomy or other breast surgery.
"There are many, many women across the world that have mastectomies as part of their treatment for cancer, part of the process of removing the breast tissue involves injuring other structures that are in the neighborhood, and some of those are sensory nerves," he explained.
While doctors have successfully addressed peripheral nerve issues across the body for many years with good success. This initiative is unique in that it combines forces. Breast Relief's multi-disciplinary approach joins a plastic surgeon or a peripheral nerve surgeon, a physical therapist and a pain specialist to develop a high-individualized treatment plan for each patient.
Read on for a few highlights from the conversation, or watch the full discussion here.
What do you hope the new website will do?
"My overarching goal is to really change how we in the medical community perform breast surgery in general."
Whether it be a mastectomy, breast reduction, or augmentation, Dr. Bank's goal is to change the way surgeons think about these operations. Current education protocols call for surgeons to simply cut nerves during surgery. His ultimate goal is to challenge that notion by raising awareness of the harm nerve damage can cause. He hopes that awareness will encourage breast surgeons to change the techniques they use to approach what they do every day.
Breast Relief itself aims to address these issues in patients who have them through an interdisciplinary approach that begins by listening to the patient's story and using that information to determine the best first step for them.
"My goal is to replicate that model across the country, so other people can just use this blueprint that we set out to take care of women that I'll never get a chance to treat and really change how we do things across the country."
What is the first step for someone experiencing post mastectomy pain?
The first thing to do is to exclude any emerging problem or oncological problem. Talk to your oncologist or breast surgeon to ensure that nothing is going on. Once that's ruled out, patients can reach the Breast Relief team through the website and move forward from there.
How long after someone's had a procedure are they still a viable candidate for a nerve regeneration procedure?
Post-mastectomy pain is defined as having lasted for 3 to 6 months, depending on the criteria you're using. Dr. Bank said that patients should wait at least that long before seeking treatment. He said there are options worth exploring for anyone who has been experiencing pain, meaning that even those who had surgery years ago should still consider reaching out. "I don't think there's an endpoint at which one can say, 'we give up,'" he said.
What advice would you give to a woman who is receiving pushback, so that she can advocate for herself with a doctor who maybe might not understand what's going on?
Dr. Bank said that patients experiencing pushback should try to find a peripheral nerve surgeon or a plastic surgeon who has experience with nerve surgery in their area. He also said they should let their doctor know that they've read about PMPS and gesture toward publicly available information and research on the topic. "It's out there. I didn't invent this: there's literature from several institutions across the country."
Blog