Breast Surgery Decisions: The Importance of Your Whole Team
March 27, 2023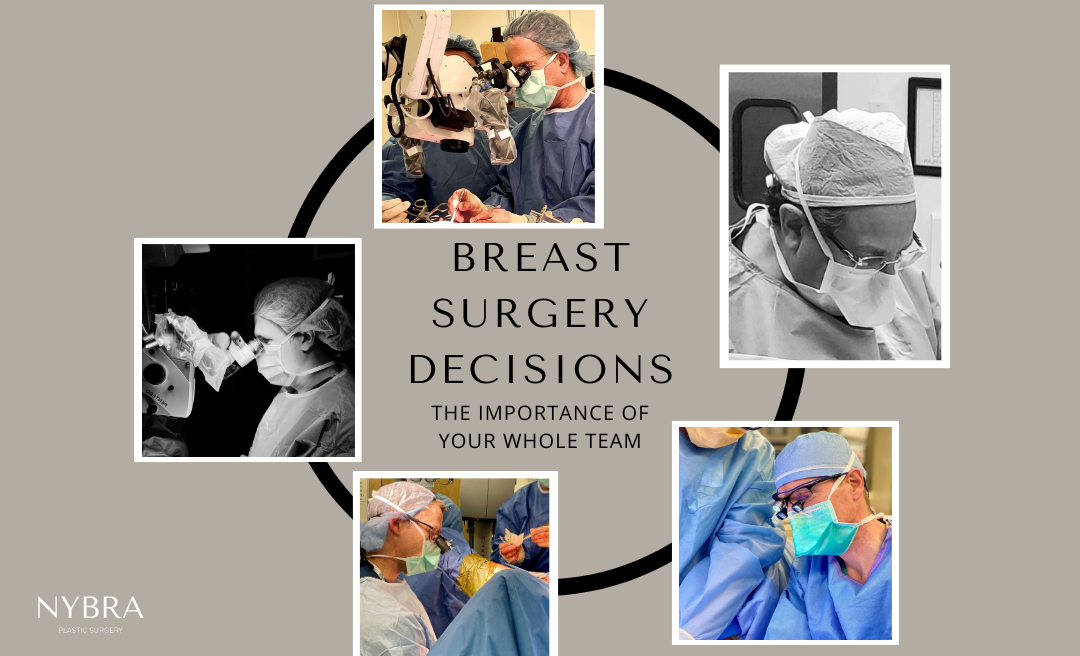 Breast reconstruction is a multidisciplinary process. Whether you are undergoing mastectomies in response to a cancer diagnosis or on a risk-reducing basis, your care team will consist of multiple types of providers. Patients have the power to choose which practitioners they work with throughout the process to tailor their experience to meet their needs. Read on to learn more about the kinds of medical providers who may be involved in your breast surgery and reconstruction, along with what to consider as you make key decisions.
The exact combination of doctors, nurses, and medical technicians on your team will depend on your diagnosis.
Patients encounter a wide range of medical professionals throughout their breast reconstruction journey. Some practitioners, like a radiologist, are less involved in-patient care, while others, like a medical oncologist, often form long standing relationships with patients. Your care may also include a radiation oncologist, a genetic specialist, a physical therapist, and a plastic surgeon, along with nurses, physician assistants, and medical assistants.
A breast surgeon is also called a surgical oncologist.
You may hear a breast surgeon referred to as a surgical oncologist. This is a way of describing a breast surgeon's role in removing cancerous tissue from the body, along with their involvement in treatment-related decision-making. They will help you evaluate your candidacy for approaches like mastectomy, lumpectomy, and nipple-sparing mastectomy. A surgical oncologist is different from a medical oncologist, because they remove cancer via surgery. A medical oncologist uses pharmaceutical interventions to reduce or eliminate cancer.
Imaging plays an important role in diagnosis and treatment planning.
Radiation and radiology are very different. Radiation is a type of cancer treatment. Radiology is a type of imaging. A radiologist or radiology technician utilizes technologies like mammography, sonography, MRI and CT scans to evaluate your specific medical situation. Then, your entire medical team uses that information to plan your treatment.
Look for surgeons who value each other's input.
Breast surgeons and plastic surgeons do and should work closely together. It is important to find a breast surgeon who is open to collaboration. A careful, well-designed breast surgery can facilitate better reconstructive results. It can also improve initial recovery and long-term functional outcomes, like breast sensation.
Existing partnerships will dictate some of the practitioners with whom you work.
In some cases, these providers come in the context of existing partnerships. For example, the surgeons at NYBRA work with a team of highly trained physician assistants throughout the reconstruction process. We also have registered nurses who help with patient education, surgery, and recovery.
Remember: you are the most essential member of the team.
One of the most vital elements of a successful care experience is your ability to work with your selected providers. You need to feel comfortable communicating on every level, at every point. At the end of the day, every decision you make is personal. Your lifestyle and any other concerns you may have can and should factor into those choices. Your medical team should empower to ask questions, advocate for yourself, and engage in shared decision-making.
Blog