A Patient's Persistence Gets her the Right Care
December 30, 2021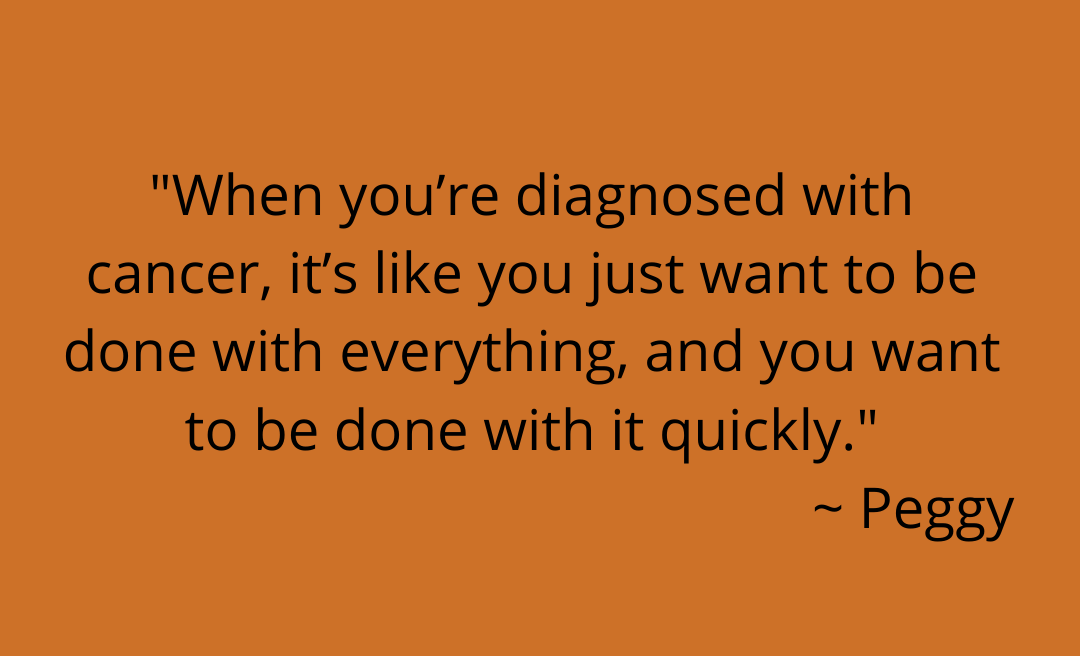 Peggy learned that she had DCIS in her left breast in 2018 over the phone. The impersonal approach hurt.
"I guess I was assuming that I would actually go into the office, and they would tell me what to do," she said.
Home alone, blindsided by this devastating information and no hands-on guidance, Peggy was consumed by fear and sadness. She made no calls. Instead, she retreated to bed and waited for her husband to come home. As she moved from diagnosis to treatment, she said she was ready to close the chapter as soon as it began.
"When you're diagnosed with cancer, it's like you just want to be done with everything, and you want to be done with it quickly. I didn't want to continue the journey. I wanted everything to be over and done with. I wanted to move on and close that chapter."
Peggy's desire for speed left little time for independent research or second opinions. She followed her doctor's recommendations with little question and underwent a lumpectomy with radiation therapy. She struggled with pain, swelling, and discoloration so severe that some radiation treatments had to be postponed to allow her skin to heal.
Her eight week radiation treatment plan was followed by a three year course of tamoxifen. Unfortunately, side effects from that therapy also affected her. She started to speak up about her care. She asked her oncologist to reduce the dosage, but even that did little to help.
As Peggy tried to find a long-term solution to her breast cancer prevention problems, her sister was also diagnosed with breast cancer. The pair tested positive for a cancer-associated gene mutation. Peggy took this new information to heart.
"I spoke with my oncologist and said that I would like to have the double mastectomy. I didn't want the dark cloud over my head."
She started to assemble a team to move forward with risk-reducing bilateral mastectomies only to be discouraged by a plastic surgeon who felt that radiation therapy had damaged her skin too much to complete a successful breast reconstruction.
"He thought reconstruction would fail and leave me with one breast, and that I should go home and think about the pros and the cons. I thought, 'You're a plastic surgeon! I look to you as an artist and that's what you're telling me?'"
Peggy may have left his office in tears, but she did not let the encounter break her spirit. She reached out to people in the medical community for another doctor. Someone referred her to Dr. Ron Israeli.
"Even before meeting Dr. Israeli, I looked at his profile on the website, I read his bio, and I knew Dr. Israeli was the one for me. 'He was like don't worry, this is what I do, we can do a double mastectomy.'"
Reassured that she would come out of the process with two breasts, Peggy moved forward with bilateral mastectomies, which removed the dark cloud from over her head and eliminated the need for tamoxifen. Dr. Israeli performed a hybrid breast reconstruction using LD flaps and breast implants. The combination of natural tissue and implant reconstruction allowed him to restore Peggy's breasts while managing the damage she had sustained from radiation. 
"I'm glad I didn't stop at the first plastic surgeon. I pursued it. I kept going. Just because someone tells us no doesn't mean that it's going to be 'no' after that."
Peggy was so happy with the care she received at NYBRA and the results of her reconstruction that she even referred her sister to Dr. Israeli.
"I don't even know the words to describe how amazing they are. They love their patients and they do care."
Photo credit: Jen Rozenbaum
Blog