Physical Therapy and Breast Recovery: How Moving Your Body Can Help You Move Forward
February 3, 2021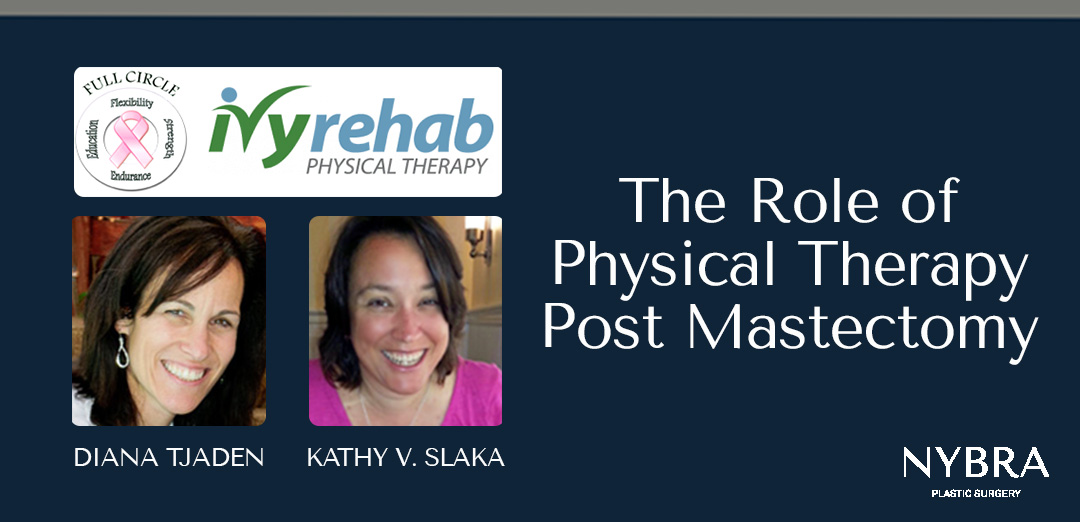 Physical therapy may not be the first thing you think of when facing mastectomy, but it can be critical in both recovery and reconstruction.
Diana Tjaden, PT, DPT, the founder & director of Full Circle Physical Therapy and the P.C. Breast Cancer Recovery Program, joined us in the January installment of our Be Informed Lecture Series to talk about the role that physical therapists who specialize in breast recovery play before and after surgery.
Full Circle Physical Therapy is the only physical therapy facility dedicated to mastectomy and breast surgery recovery on Long Island. They've recently partnered with Ivy Rehab in hopes of bringing the concept nationally.
Read on to learn more about who should consider physical therapy, what the goals are, and how it can support the rest of your treatment and long-term recovery plan.
What does physical therapy before or after breast surgery do?
Tjaden put it simply: "We restore your functions."
She said that the most common impairments she and her team deal with include decreased range of motion, poor posture, soft tissue problems, and strength deficits.
These problems can appear or worsen after surgery in response to a surgery's impact on muscles, surgical tightness, scar tissue, or postoperative pain, and the side effects of radiation therapy. Another frequent culprit is fear of movement, as many patients don't know how much they can or should move around following treatment.
When should I be evaluated?
Patients can be evaluated at any point, even years later. However, pre-surgical evaluation is ideal. This 'prehabilitation' allows therapists to screen your health and establish a baseline. Patients can start working on existing issues that may worsen after surgery and therapists are able to identify any existing imbalances so that they truly know what is and is not related to surgery.
Who should consider physical therapy?
"We treat patients undergoing all surgical procedures for breast cancer, as well as patients who've undergone risk-reducing mastectomies," Tjaden said.
Physical therapy is tailored based on your surgery and reconstruction choices, including lumpectomy and mastectomy without reconstruction.
Can physical therapy increase the chances of developing lymphedema?
According to Tjaden, working with a physical therapist who specializes in breast recovery has the opposite effect. "We at Full Circle are here to reduce the chances of lymphedema."
Some of the lymphatic system is muscular, which means that patients who are conditioned are better able to handle the load during heavy lifting. Full Circle uses range of motion and strength training exercises to help prevent this postoperative complication.
"I think we have come to realize that education is power. There's nothing to be scared about with it. We educate you about what to expect, signs, and symptoms. If you see swelling, you're referred out [to a lymphedema therapist] sooner."
Should patients who do not have any physical limitations before or after surgery still be evaluated?
If someone is not demonstrating any physical limitations, Tjaden said that it is still beneficial to have an evaluation. One visit can help you understand the process and what you might experience from surgical procedures, establish expectations, and evaluate whether past problems have the potential to come back. It can also help identify smaller strength deficits that could be addressed with a home exercise plan.
"We always hope everyone who leaves full circle realizes that we're here to help you take back control of your life and become an active participant in recovery. We're here to help you be an active part of this plan."
Blog