Laya

- Bilateral mastectomies
- DIEP flap reconstruction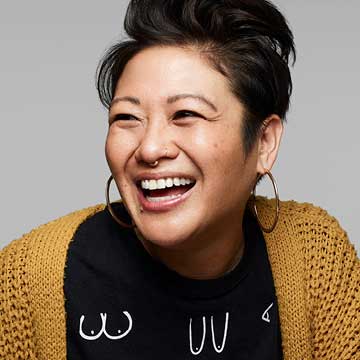 Laya was living in Brooklyn and had just started teaching art at the British International School in Manhattan when a trip to the laundromat took an unexpected turn.
"I hit myself on my left breast with the handle of my laundry cart, and the next day my whole breast was swollen in that area. Two days later the swelling went away, but there was still a lump," she said.
While she was not thinking about breast cancer, Laya knew something was wrong. Unable to get a timely appointment with her regular OB/GYN, she went to a local center designed to provide fast reproductive healthcare. They sent her for a mammogram, which became an ultrasound and then an urgent biopsy.
Laya was diagnosed with breast cancer on March 24, 2017. She told her friends and her three sisters knowing that the most difficult conversation was yet to come: she needed to tell her parents.
Laya is the child of Filipino immigrants who met in the states. She explained that the Filipino community came with a specific set of rules, rules that did not involve discussing emotions.
"My parents came with their old school values. You don't talk about feelings, you don't recognize them, having a therapist is taboo. If you have to seek out these resources to help you, you're someone who's crazy, who's weak, because you don't do that if you're Filipino."
Her parents had little reaction to her diagnosis beyond delving into their own medical and personal issues. Even when confronted a second time, they offered little support. They had a cruise booked during her mastectomy and did not attend the surgery. Still, Laya's decision to confront them at all was the beginning of a transformation for her.
"I spoke back. I finally was like, this the end of it. For me, it was about my transformation, this is the start of my evolution. I've grown, and I understand myself as the person to end this cycle of not talking about your feelings and your illnesses. I push my sisters to respond to their children and listen to them, and stop repeating this cycle."
She began to assemble her support system. Her breast surgeon recommended NYBRA after Laya explained how important the emotional aspect of care was for her.
"When I found out about the Patient Empowerment Program, I was like this is where I'm supposed to be. The practice was everything I needed. It was always supportive, I always felt like I was a person first, before a diagnosis. They cared about me first."
Laya proceeded with bilateral mastectomies and underwent breast reconstruction by Dr. David Light. She and members of her support system walked into the hospital on the day of her surgery wearing unicorn headbands she had purchased a few days prior. Before they went into the operating room, she gave one to Dr. Light which he wore, too.
During chemotherapy she continued to push forward and make changes in her life. She ended a 12 year relationship and started to take a hard look at her stress levels.
"I remember Mollie telling me, your body is going to recover from this; the human body is an amazing thing. You're going to feel like you got hit by a truck, but four months later you're going to be OK. Your mind is what we need to take care of, your mental health."
Laya said that breast cancer really changed her life and perspectives. While it comes with its dark days, she's learned to put herself first.
"My life before cancer was so unbelievably stressful. It's so different now. And I think I'm in a better place, interestingly enough. The cancer diagnosis was I guess like, an awakening. It's helped me to shift my focus to what's important."
More Patient Stories
Our patients are the most essential part of the NYBRA community. No two stories are alike.